NOW ENROLLING PRESCHOOL AND JUNIOR KINDERGARTEN FOR 2024-2025 SCHOOL YEAR
Contact Mrs. Michelle Mike-Brooks, Director of Preschool & After School Care, for more information.
502-267-6633 | mmike@stedward.school
Goals and Expectations: The goals of our preschool program are to develop social and interpersonal skills to enable preschool children to communicate effectively with their peers and function successfully in a school setting. Our preschool program provides social competence activities to foster strong relationship with peers, facilitating the strong connection between social competence and the ability for children to follow directions, maintain an attention span, and listen effectively.
Religion: The religion instruction for our preschool is to build a Christian foundation in how we treat each other. Preschool students attend all school Mass every Thursday morning and learn about God and his many gifts through the "Seeds" liturgical based weekly booklets.
Instructional Strategies: There are a variety of instructional strategies used at the preschool level including the following:
Content focused centers

Small group instruction

Role playing

Songs and Movement

Fine and Gross Motor Skills

Special Areas: Spanish, STEM, Music, Art, PE and Library

Friendzy - Social Emotional Curriculum

Brave Buddies – building positive relationships

Field Trips – Huber's Farm, Derby Museum, and Main Library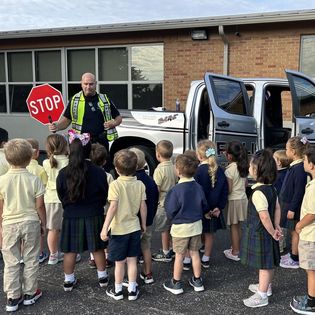 Preschool Faculty & Staff:
Mrs. Michelle Mike-Brooks — Director of Preschool & After School Care
Mrs. Shannon Flester— Lead 4 Year Old Preschool Teacher
Mrs. Vicki Polio –Lead 3 Year Old Preschool Teacher
Ms. Sarah Johnson –Preschool Assistant
Mrs. Becky Carney — Preschool Assistant
Mrs. Maria Offutt — Preschool Assistant
For more information about our Preschool Program and Enrollment, please contact Ms. Michelle Mike-Brooks at 502-267-6633 or mmike@stedward.school